Why is selling an ESG story so hard?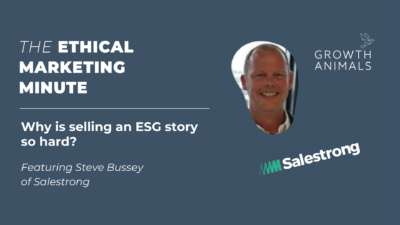 With an estimated £30tn of ESG (Environmental, Social and Governance) investments coming into the financial sector this year, why is it that one of the biggest challenges facing firms in the sustainability space is communicating the value of their solution to decision makers?
Steve Bussey, Founding Partner of Salestrong, the sales training and coaching specialists, has noticed a gap between the conversations taking place in the boardroom around ESG initiatives and the investment being made into the training, assets and key messages needed to ensure sales teams can confidently communicate around them.
In our conversation, he put forward a few theories and solutions to those barriers:
1. Simplify the message – ESG stories are not always simple stories to tell. Finding the story that your customer can easily retell in their organisation is crucial. Ultimately, ESG is a valuable proposition and where teams are struggling to articulate the impact it has on their customers, they should draw it back to one of three core customer tensions: 1. Does it make us more money (eg. new contracts), 2. Does it save us money (eg. avoid fines) and 3. Does it minimise risk (eg. avoid regulation).
2. Cost vs Investment – While investment will no doubt be required to develop the best communications and assets to bring the key message to life, it should always be looked on as an investment rather than a cost. For even commodotised products can be differentiated by having a sustainability story, which can help lift the conversation with customers outside of just price.
3. Fear vs Bravery – Is it really green or am I going to be accused of greenwashing? While every effort should be made to understand each step of the value chain and the impact it has on a company's sustainability credentials, perfection is not the be all and end all. Honest and transparent communication about where the business is making positive steps and making strides to improve will be respected. After all, the only thing worse than greenwashing, is greenhushing.
If you'd like to find out more about Steve and Salestrong, visit www.salestrong.co.uk
If you'd like support in developing your ESG messaging, visit www.growthanimals.com
For more Ethical Marketing Minute content, click here
If you've got a story and would like to feature on the Ethical Marketing Minute, contact Chris
Sign up to our newsletter for more great content like this