Lessons in manifestation from Birgit Gunz owner of Frankonia Bakery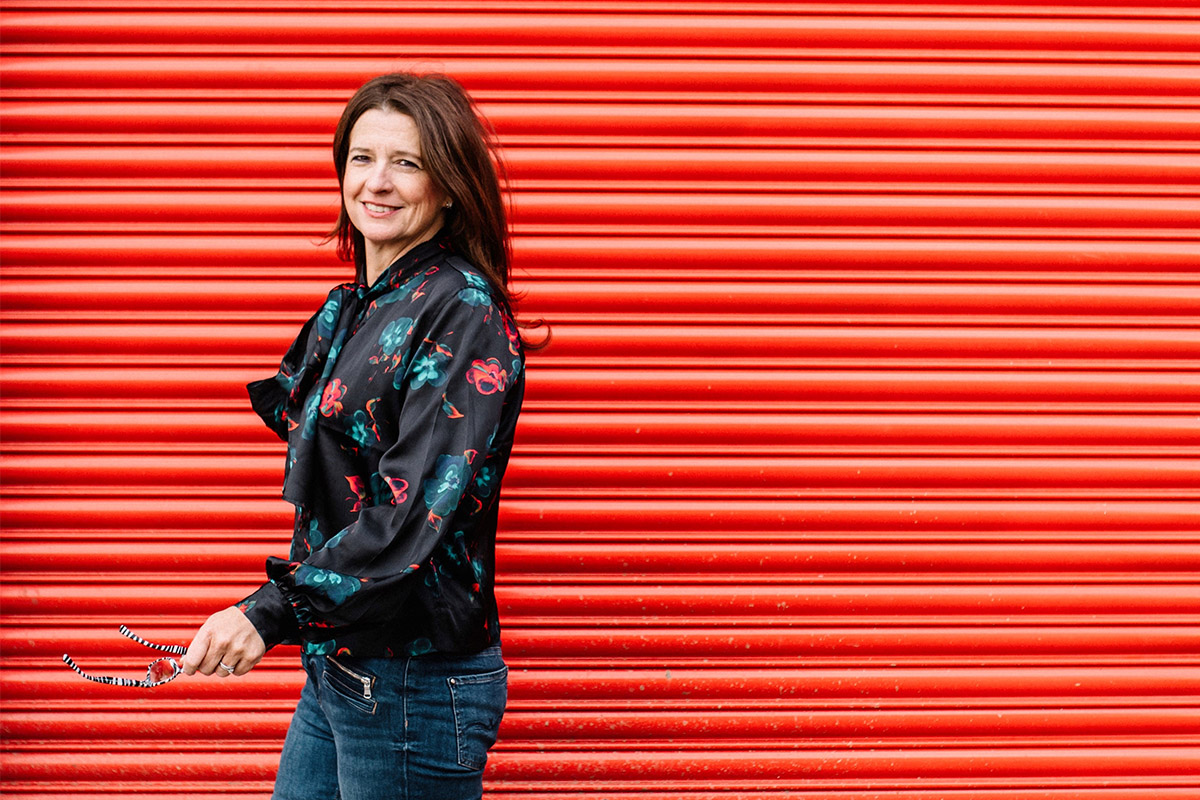 COVID Creations Part 1
Lessons in Manifestation, Speed and Determination from Birgit Gunz, owner of Frankonia Bakery, an established B2B business of 20+ years
This week I had the pleasure of talking to inspiring individuals from very different businesses and backgrounds. They all, however, share one important characteristic: true determination.
Their tenacity came in rather useful over the past year, being forced to adapt to challenging marketing conditions, but all hell-bent on not giving up, despite the ever-moving hurdles to jump. In our four-part series, we explore lessons learned from each of the entrepreneur's experiences of 2020.
My first enlightening conversation was with the energetic and creative Birgit Gunz, owner of artisan bakery, Frankonia The Bread House. For over 20 years, Birgit and her talented team have been lovingly crafting their loaves, buns and pastries, firmly establishing themselves amongst high-end clients. When 2020 arrived with its many obstacles in tow, it was Birgit's fierce optimism which led her thriving business through the fog. Here at Growth Animals, we are delighted to share Birgit's story of how she significantly shifted her business during lockdown and how Frankonia The Bread House continues to thrive.
Power of Manifestation  
As we all try to navigate the virus and the ever-changing government advice, it can be tricky for business owners to know what their next step is. Not for Birgit. She continues to propel her business growth forward by keeping her eyes fixed upon her goal. Her advice to other businesses? Do "not look left or right. Keep your eyes on your target. Don't look down, you'll see all the stumbling blocks that will muddle you."
Birgit truly believes in the power of intentional and positive manifestation. She was told about imagining and consciously pulling forward the things you desire by a friend, who had done the same. So, Birgit manifested her first bakery, which she opened in 1998, after drawing it after a party with her friends. And when she moved into wholesale, Birgit wrote down a list of clients she wanted to supply, and slowly but surely, she was able to tick each one off, creating the prestigious client portfolio she is still so proud of today.   
Birgit believes she also manifested her husband, after another friend encouraged her to write down all the characteristics and values she wanted from a life partner, just before her 40th birthday. She dispatched it to the universe (by putting it in a draw!) and forgot about it. A special man did come into her life, someone her instinct told her she wanted to marry, and after 15 months she stumbled across the list again. Low and behold, this man had every single one of her desired traits and values. She kept this list from him. That was until she read him the list on their wedding day, 12 years ago. Birgit says: "I look at him every day and think I've hit the jackpot and I'm convinced it was because of my list!"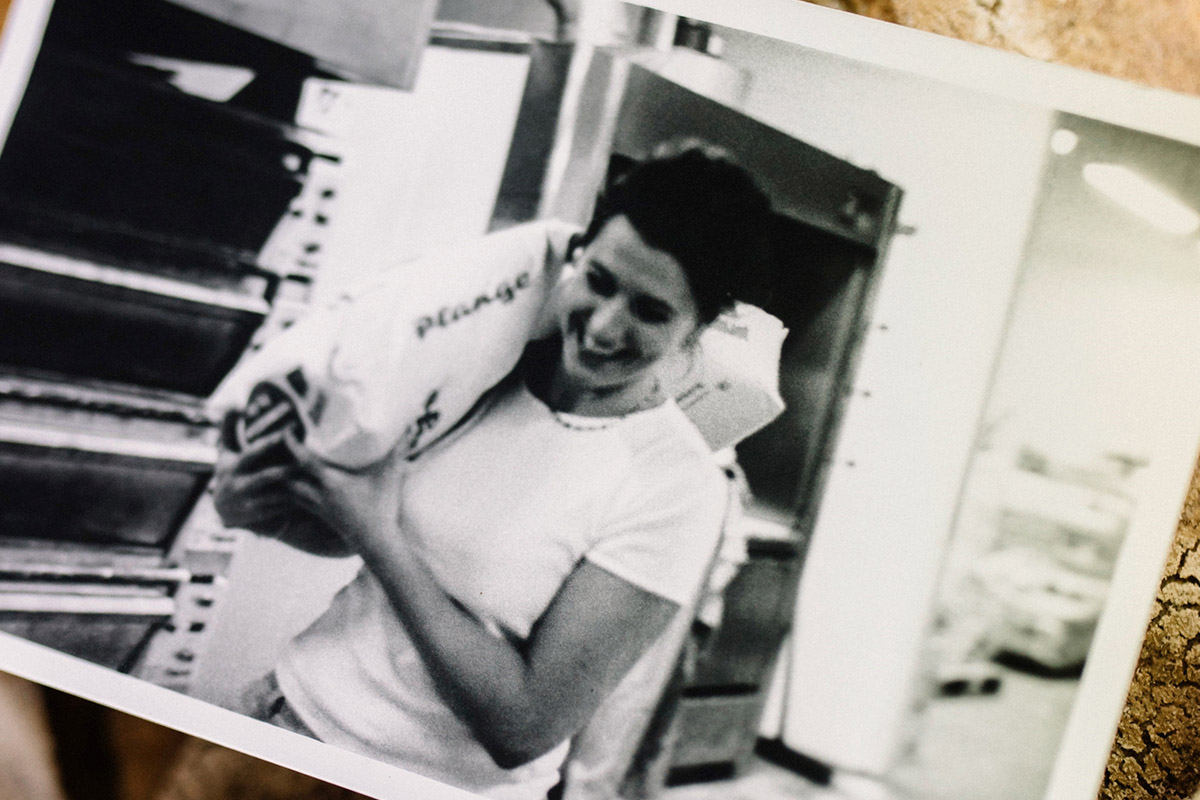 Humble Beginnings
Frankonia began after Birgit left her career of 11 years in the financial markets of London. Feeling like she needed to do something on her own, Birgit pursued her "fancy" of owning her own bakery. Birgit's passion for baking comes from growing up in Germany in the 80s, where Birgit said "bread was very different to what was popular in the UK at the time, so I set about bringing European style bread, like sourdoughs, to the people of this country." 
Birgit describes her humble beginnings as "a small bakery and shop on the high street in Wimbledon Village, with a German baker and French pastry chef". But, with just having one shop, and bread being a low cost item, in order to grow to be a successful, profitable business Birgit knew Frankonia needed to find a way to sell their goods in volume. Therefore, Birgit was faced with a big decision. The business either needed to expand to around 10 shops or move into wholesale. 
At the time, Birgit's gut instinct was to focus on supplying the many hotels, clubs and restaurants on her doorstep in London. She felt multiple shops would be more stressful and she couldn't be in ten places at once. So off Birgit went, as she put it, "dialing and smiling", an old city expression for cold calling, introducing Frankonia products to five-star hotels and gentleman's clubs. 
Wholesale business grew organically to the point where the shop could close after four years. Birgit, who was determined not to grow too big, too fast, focused on maintaining high standards of product and customer service. "Non-negotiable consistent quality" was Birgit's ethos, which in turn became her growth marketing strategy. It was Birgit's insistence that the business always had the right skills and standards from bakers and pastry chefs that created powerful word-of-mouth amongst chefs. Thanks to this advocacy, Frankonia evolved over 20 years into, in Birgit's words, "quite a wonderful company, which I was extremely proud of."
Lightning Speed 
Just before lockdown, Birgit was feeling upbeat. Further growth was on the horizon, following a shake-up of Frankonia's teams and distribution plans, all part of a plan to raise efficiency and lower cost. Birgit said: "we invested in an amazing bread slicer for sandwich breads for all the lovely hotels serving London's afternoon teas. This made us slicker and things were looking good. Until it all went pear shaped."
Birgit describes the impact that the pandemic had on the business as all happening really fast, with wholesale orders diminishing almost overnight. With not much time to digest the news or to think, Birgit said she knew she needed to "act at lightning speed" and so took action based on her instinct. 
"We at that point knew there was chaos in supermarkets, people couldn't buy bread, but I had a bakery with staff and can make bread! Better bread than the supermarkets were selling!" Birgit knew she needed to find an outlet to reach the public fast, so overnight Frankonia made a shop in their loading bay outside their bakery on an industrial estate, which was fortunately in a residential area and easily accessed on local people's daily walks. 
"That was the Wednesday before lockdown, the next day we designed a basic leaflet, printed by a local printer, which I picked up on the same day that it went to print. My drivers went out leafleting that very night, with maps, hitting different areas locally, and incredibly we opened on the Friday before the Monday lockdown. Just in the nick of time." 
Birgit's key lesson learned from the process of needing to adapt was that one can never take anything for granted. Her advice is to set up businesses in a way that is lean and trim, where you are not spending excessively and have a plan B up your sleeve, so you can act fast if conditions change. "You cannot be complacent. Stay alert, and be ready to pivot just in case."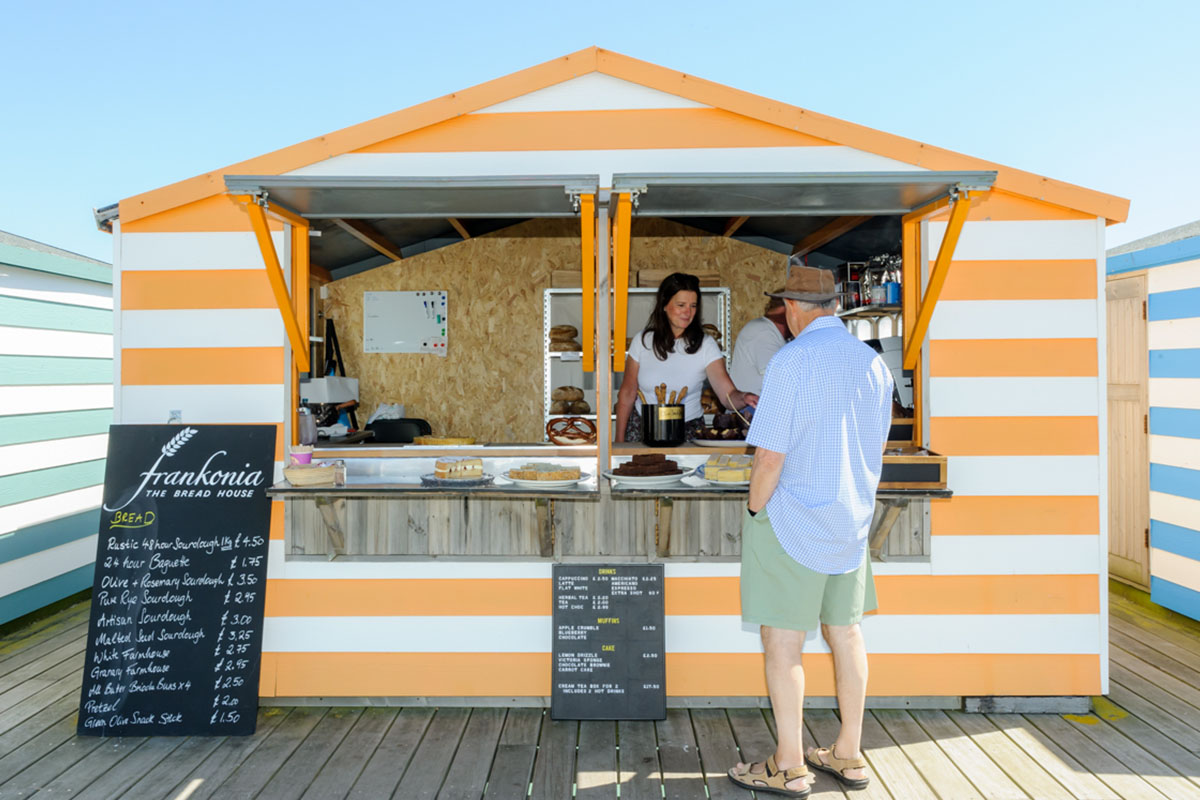 Iron Determination 
Despite the 'pivots' during the COVID-19 pandemic, Birgit maintains that Frankonia's core beliefs have never and will never change. "We don't take shortcuts, we have a great reputation for reliability and service and our ethos is to care about our customers and what we do. This is not up for discussion."   
When asked where her focus and determination comes from, Birgit thanks her DNA. Her late Father was "quite the Iron Man, nothing would blow him over. He was not afraid of a challenge". 
Birgit recalls she took a view in May 2020, that hospitality as we knew it wouldn't come back for quite some time, so retail was the way forward. And thanks to the success of the pop-up shop outside the bakery, Birgit explored more retail opportunities throughout lockdown. After learning the demand for artisan products from the many appreciative foodies in Hastings and St Leonards, East Sussex, Birgit opened a kiosk on Hasting Pier selling bread, cakes and coffee, and set up a concession at a farm shop in Hurst Green, amongst other independent retailers. 
In order to futureproof the business, it was Birgit's nature to take the bull by the horns, inherited from her father, which led Frankonia's pivot from solely wholesale, adding retail back into her distribution channels.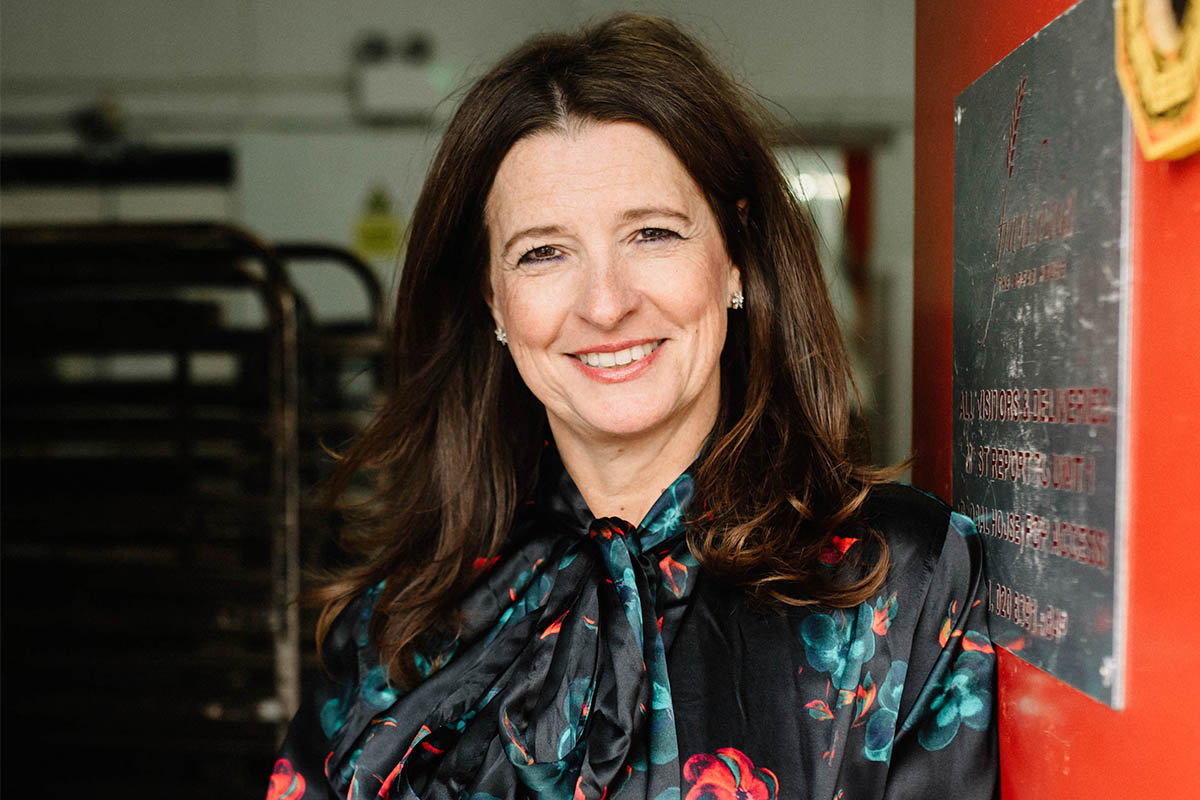 What's Next? 
Birgit is now feeling "strangely positive" and much less stressed having been forced "off the hamster wheel" and to reevaluate the right path for growing her business. Whilst Frankonia will continue to service the list of amazing wholesale clients Birgit is so proud of, Birgit is happiest when she is creating. As such, she is extremely excited to develop the retail side of her business, launching a brand new website so customers can order directly wherever they are in the uk, and planning to launch five shops in the medium term. 
And as a true believer in the power of manifestation, of course Birgit has drawn her next Frankonia bakery, with people coming out with full bags of bread and smiles on their faces. She has drawn a particular style of shop front inspired by one of her favourite places, Petersham Nurseries in Surrey, and guess what? She has just found the premises that look just like her sketch! A coincidence? I don't think so.  
Visit www.frankonia.co.uk to find out more about Birgit's business. 
Join our mailing list to receive more great content like this