Kate Gregory Co-Founder of The Gin Kitchen & aeronautical engineer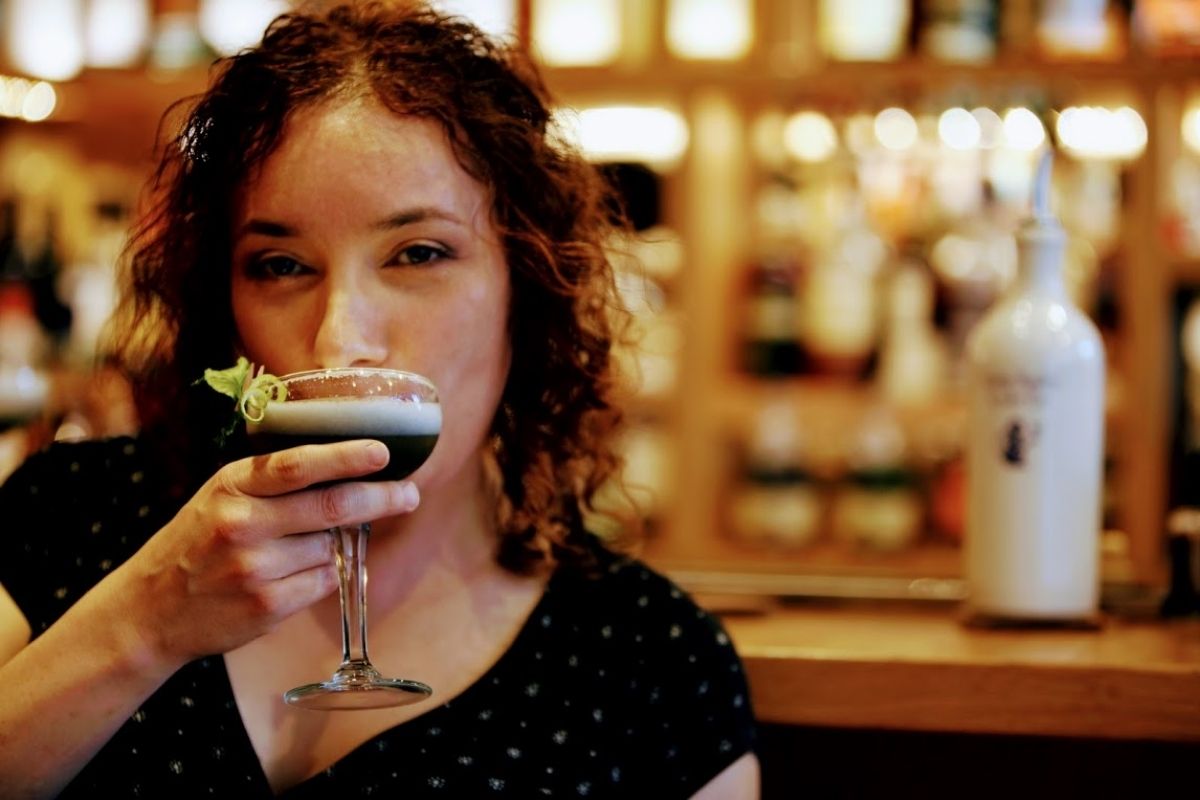 Career Shifters and Business Movers Kate Gregory, co-founder of The Gin Kitchen, and aeronautical engineer
In this new series of articles, I'll be exploring the journeys of business founders whose careers have had a serious makeover. We'll be focusing on how they reached their current calling and what they learnt along the way. The first person I met to talk career-shifting with, was the extremely clever and highly ambitious entrepreneur Kate Gregory, co-founder of The Gin Kitchen, a rather special distillery and bar in Dorking, Surrey. 
In stark contrast to her life now, for many years Kate was a professional aeronautical engineer, first in the Ministry of Defence and then for a private contractor in Paris. Kate describes her past self as 'a real life version of Kelly McGillis' character Charlie, in Top Gun'. As an expert in air combat, Kate had a lot of fun and got satisfaction from doing a job which was 'useful.' She very much enjoyed using her super-strengths of creativity and problem-solving, which helped her to work her way up through the ranks. 
However, after years of international assignment, Kate returned to the UK only to find there weren't any jobs for her at the level she had achieved abroad. Kate likens this point in her life to 'crashing down hard on the glass ceiling and grew increasingly frustrated at the effect multiple layers of management had on her ability to explore her ideas. Kate explains: 'I'm the sort of person who's not just thinking of the next thing, but the thing that is one step beyond what everybody else is thinking.' This was hard for some people in her workplace to grasp and Kate became more and more discouraged.  
Being the determined person that she is, Kate felt it was time to start looking for another livelihood and had an urge to start her own business, where she could truly apply her imagination, without limitations. She didn't quite know what her company would be, until one day when she was driving to Heathrow Airport, on her way to Paris for a meeting. A feature came on the radio about distilleries and how much fun people were having creating their own spirits. It seemed that everyone was talking about gin these days and Kate and her best friend Helen were big gin fans. So, it got Kate thinking. She immediately rang Helen, interrupting her in a meeting at work as a Psychologist and Kate told Helen, in no uncertain terms, they were going to make gin.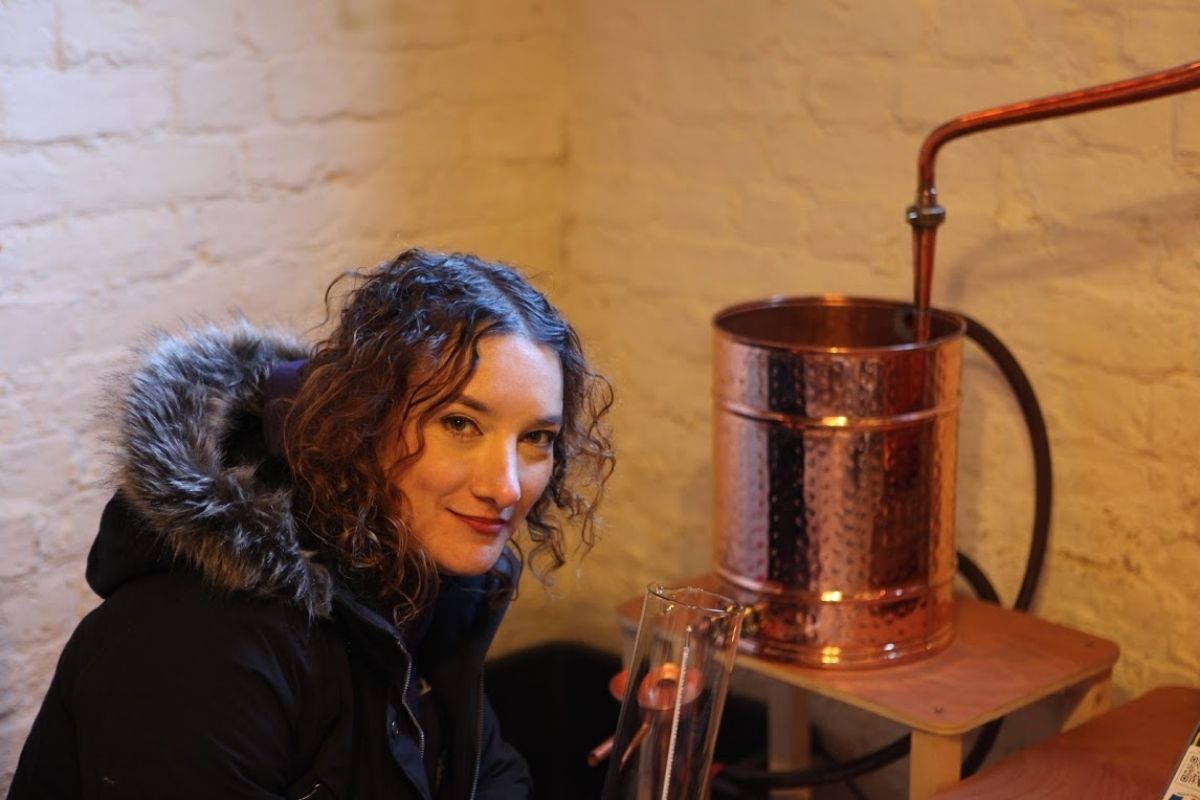 All Change
Whilst in France, Kate googled how to make gin and jumped straight into action as soon as she touched back down in the UK. 'On the way home from the airport, I went straight to Waitrose to buy some vodka, spices and some juniper. Helen then came round and we turned my kitchen into a scene from Breaking Bad' –  hence the name The Gin Kitchen. 
I asked Kate if she sought advice about running a business, but I should have known what the answer from this independent entrepreneur would be. Despite never running a business before, Kate was confident she would work that out along the way. She already had an idea of what she needed to do to start the company and wasn't daunted by it. Instead, the most important factor to her and Helen was finding out whether people would actually like their product. And so began the blind taste testing in Kate's kitchen. 
The school mums, who would have previously been invited for coffee, were asked to be guinea pigs and try the first iterations of Kate and Helen's gins in blind tastings, pitted against already established gin brands. This trial stage was so important to the duo, as creating a recognisable and exceptional product was their ultimate goal. Kate said they wanted people to be able to taste that it was 'a Gin Kitchen gin,' as new variations were created. After personally trying two of their gins, Gutsy Monkey and Ginger Cat, I can attest that I will now know a Gin Kitchen G&T when I taste one.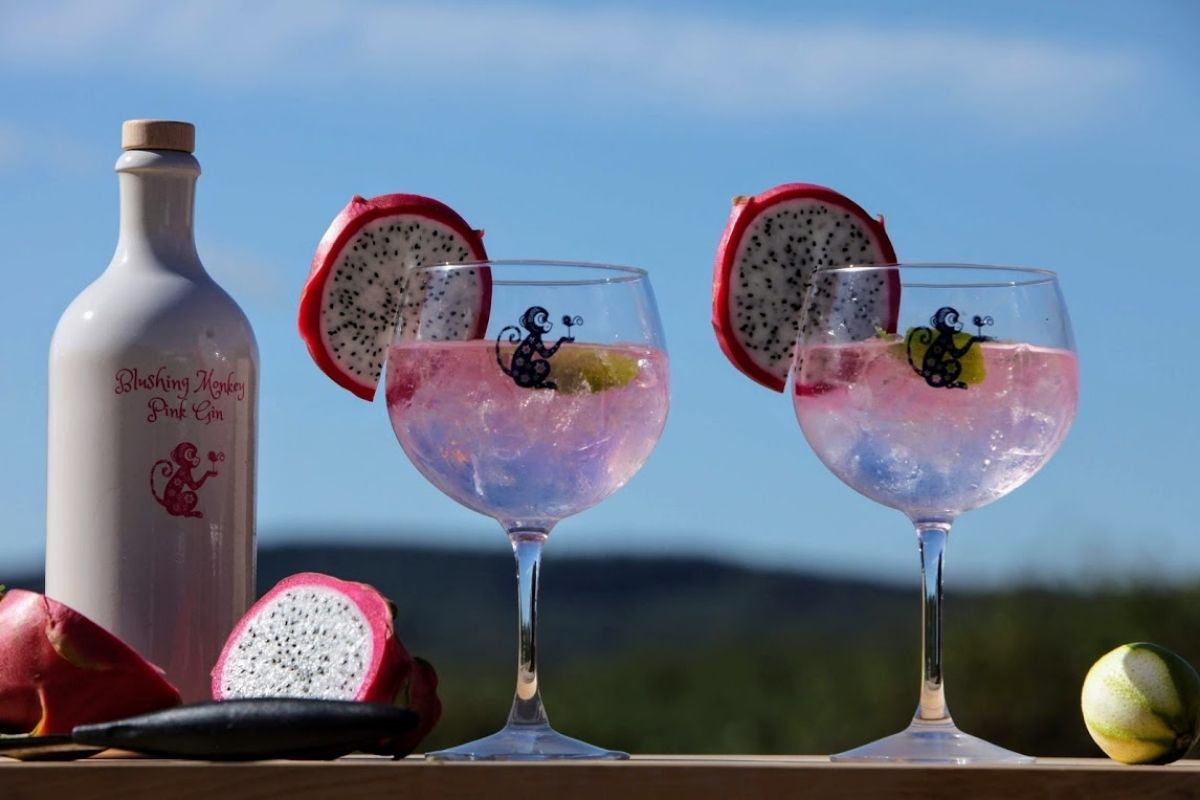 And so it began
From here Kate and Helen started to invest the money they'd usually spend on buying gin for themselves into making their own product, so there were no risks or additional spending. Neither gave up their day job to begin with, but spent evenings and weekends distilling small batches, borrowing space from a local brewery when it wasn't in use. As demand grew, the pair moved to a small outbuilding in a local pub and hired help to keep the still running whilst Helen and Kate were at work. 
Word spread quickly around the local area. The surrounding villages and towns became aware of The Gin Kitchen and eagerness to try Kate and Helen's gins increased. They'd make deliveries to pubs and independent shops in the evenings and at weekends. That was until Kate started receiving 'gin calls' whilst at her day job. Then she knew that it was time to take the leap from being an engineer to becoming the full-time owner of The Gin Kitchen.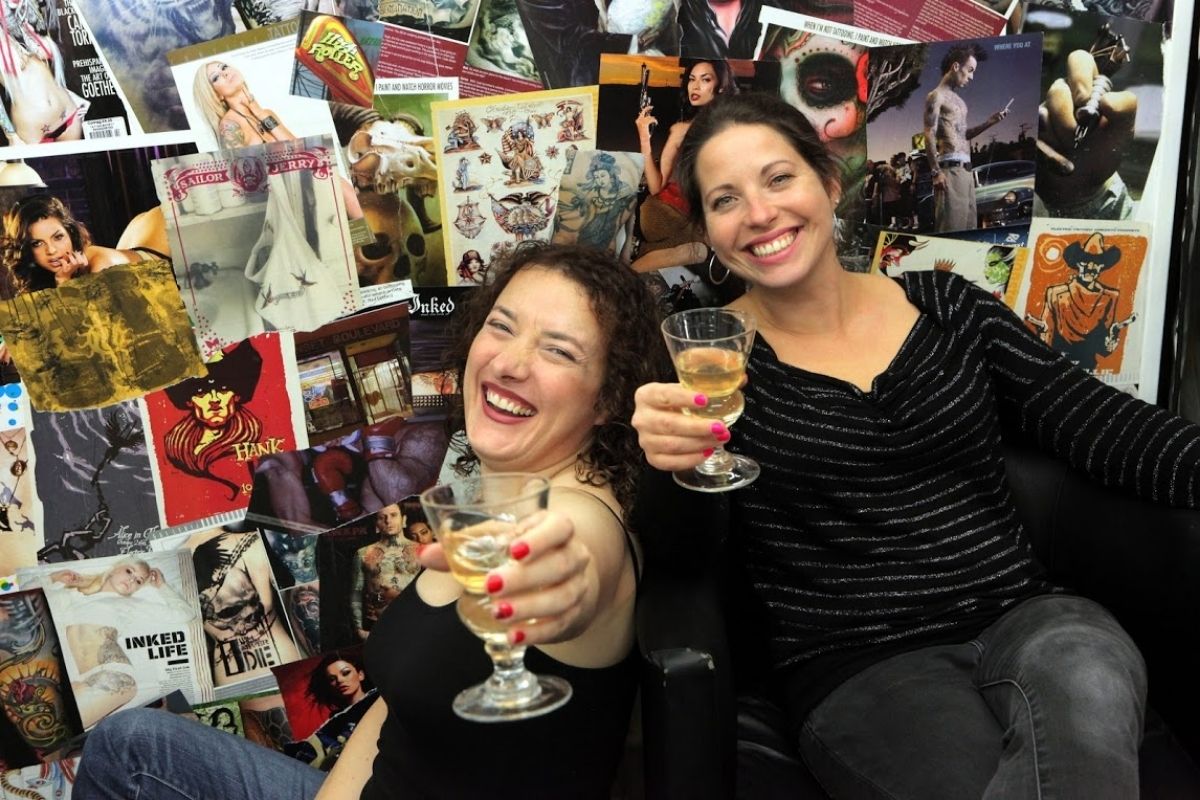 Why it works
I asked Kate why she chose to go into business with Helen. It turns out that Helen embraces Kate's talent for thinking a few steps ahead and that they both bring different, but complementary, skills and strengths to their business. But fundamentally, they are both on the same page and want the same things. Each brings their own imagination and flair to the table. Thankfully they keep each other in check when one of them gets carried away or distracted by a shiny new idea. They do their best to keep each other on the straight and narrow whilst embracing the inventiveness that has made The Gin Kitchen one-of-a-kind.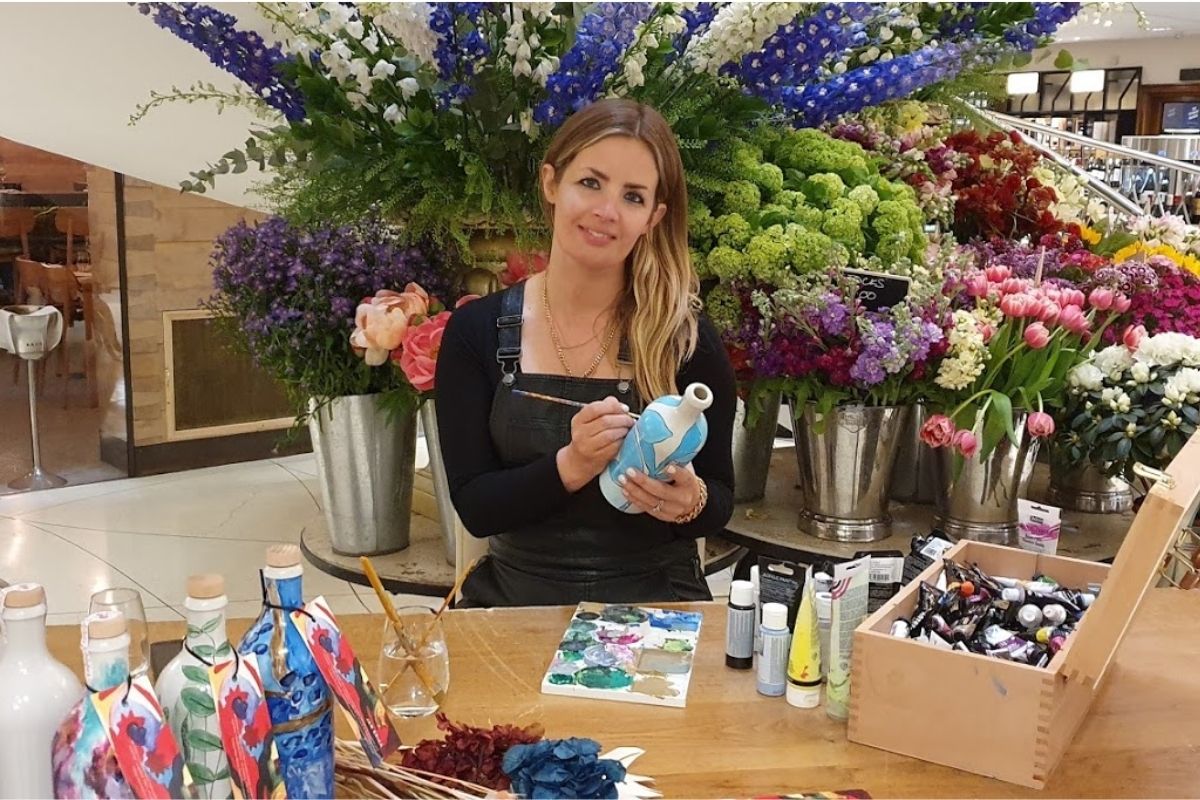 Bold moves
The fire in Kate's belly means that she isn't content with The Gin Kitchen just being another brand on the supermarket shelf. There are so many delicious gins out there, all made with love, just like The Gin Kitchen's. However, Kate's ambition is to truly own the less-crowded, high-end gin space and become the Dom Perignon of the gin world, with her bottles stocked in the best high-end department stores in capital cities around the globe. And this isn't just a pipedream, it's absolutely Kate's mission (which I assume she's run past Helen!). 
This ultimate goal isn't just hot air, which Kate demonstrated with a visit to Fortnum and Mason a couple of years ago. She and Helen turned up with gin samples in her handbag, hoping to score some time with the department store's drinks buyer. By luck, he was there and invited Kate and Helen to share their gins with him. He placed an order on the spot (for far too many units than Kate could reasonably produce at the time!) and Helen and Kate's Dancing Dragontail Summer Gin went on to become Fortnum and Mason's spirit of the month later that year. The rest, so they say, is history; Fortnum and Mason have stocked a selection of The Gin Kitchen's creations ever since that very first meeting.
Kate and Helen have already made inroads towards international distribution and their gin is now stocked in several countries across the world. The Gin Kitchen has gone from strength to strength.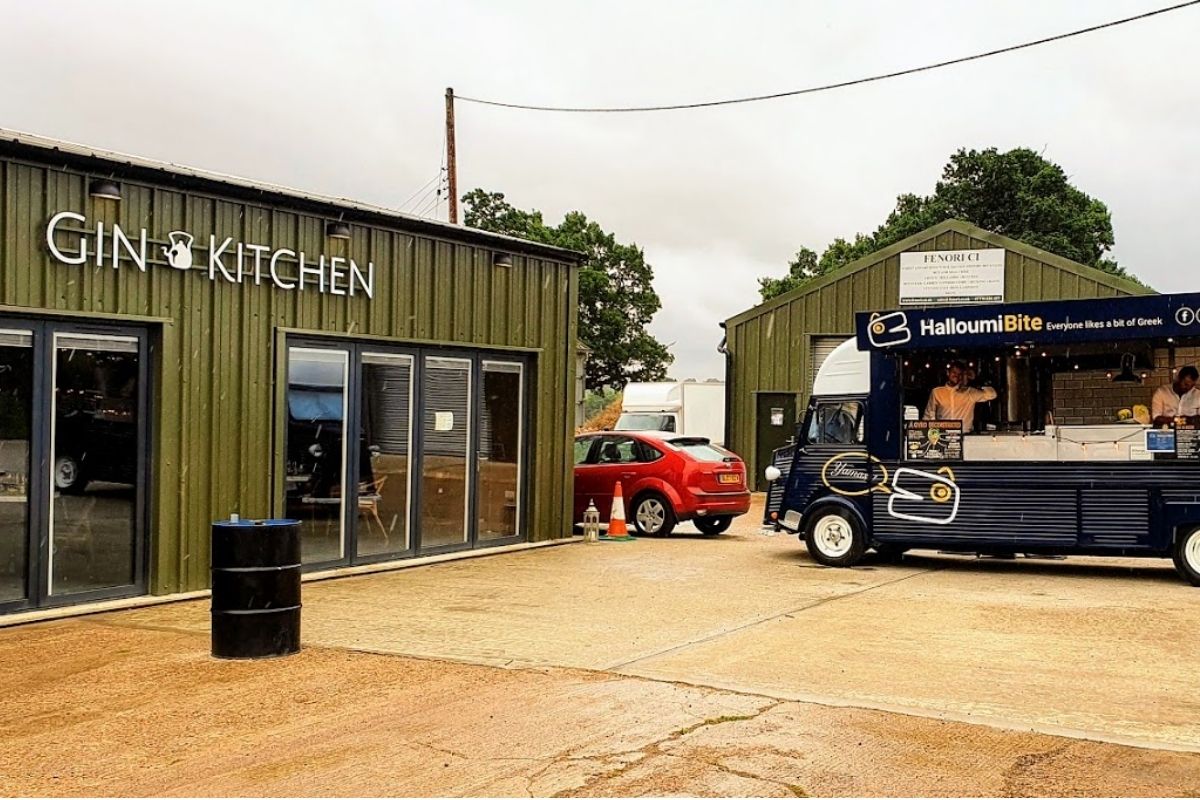 Did someone mention COVID?
Sales did drop off a cliff at the start of the first UK lockdown in 2020. Whilst the nation stockpiled toilet rolls, people weren't so focused on ordering gin. Kate and Helen prepared their team with the news that the business would close temporarily, to weather the storm. That didn't last long though, as after a week or so of panic buying, their loyal fans started flocking back to buy their Gin Kitchen 'essentials,' online. 
Not only did online sales thrive, but so did off-licence sales thanks to the positioning of the distillery and bar on the picturesque cycling and walking routes of the Surrey Hills. The glorious weather of summer 2020 may have provided a helping hand too. Kate's takeaway G&Ts (and not forgetting her Singapore Slings) became popular amongst cyclists and walkers, who enjoyed a rest and a drink in the distillery's surrounding fields. Kate told me: 'it was great to have life back in the distillery. It felt like we were doing something for the community and lifting people's spirits.'
The year 2020 gave brilliant problem-solver Kate plenty of challenges to navigate her way around. As well as adapting the bar to operate a take away service, she was also approached by hospitals to make medical grade hand sanitizer. Kate and Helen had to think quickly. Ordinarily, this wouldn't have been something they'd have got involved in, as a premium brand, but the team wanted to do their bit to help others. Kate's brain started ticking and in the end they used the alcohol from some of their previously failed experiments to make a rather lovely smelling hand sanitizer.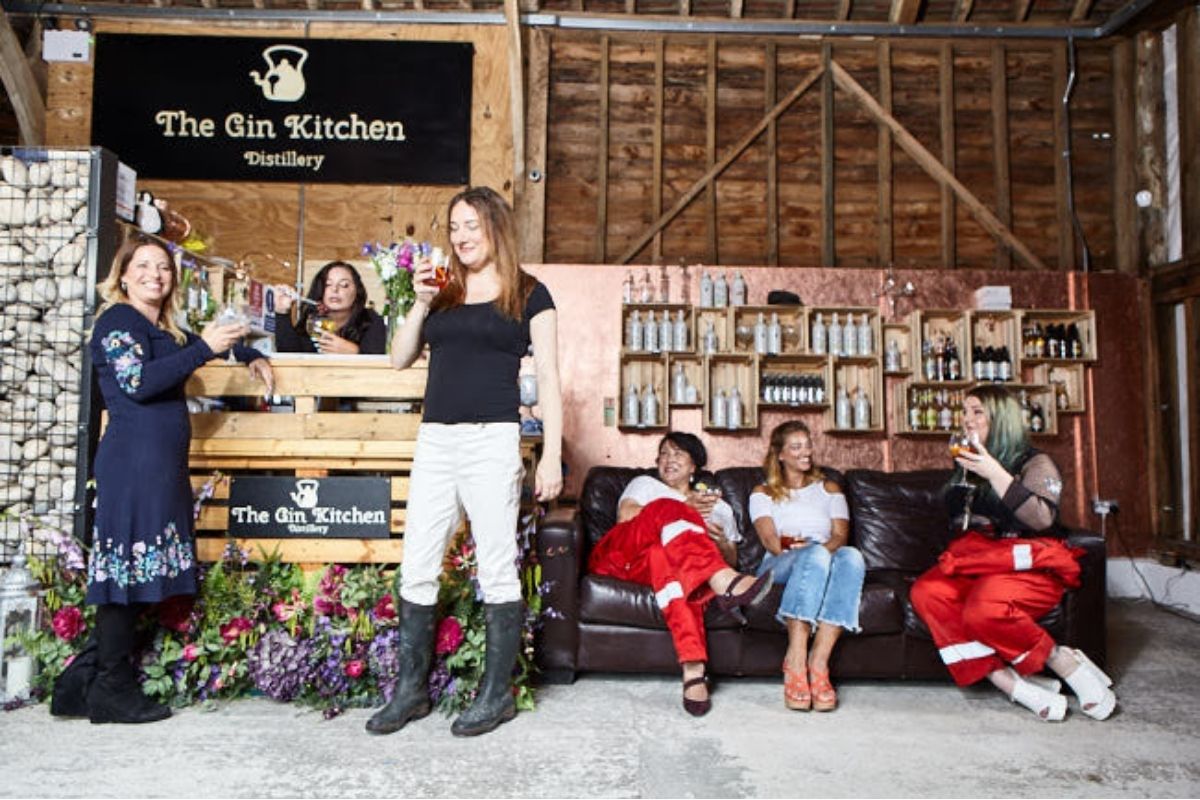 TLC
I asked Kate if she had advice for anyone in a similar situation to her past self, where they may have become despondent in their career and are considering a new path. Her advice was simple: 'do what you love every day.' Having now visited Kate's distillery, it is apparent that this motto guides every decision that Kate makes for the business and that quality, love and care — not to mention creativity and imagination — are the driving forces behind Kate's success.
Kate takes great pride in every single bottle of the gin produced by The Gin Kitchen. Each botanical is weighed to the milligram and the process isn't rushed, which ensures consistency and the highest quality gin possible, with a richness and smoothness, unique to The Gin Kitchen. Each batch is taste tested, every bottle is hand numbered and meticulous record keeping keeps everything in order. 
We'll end on more of Kate's wise words of positivity. To anyone who is thinking of making a change to their line of work, Kate encourages you to let your passions lead the way. 'Make sure that you choose something that you love doing. If you really enjoy what you're doing then it's not work. If you are passionate about what you're doing, then you are far more likely to succeed.'
Join our mailing list to receive more great content like this