How to make your accounting ethical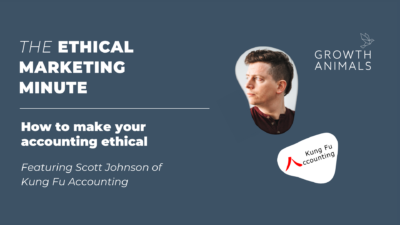 What's accounting got to do with ethical marketing, I hear you say? Well, money makes the world go round, so if we're going to play in this capitalist game, we might as well make it as ethical as can be, right?
Scott Johnson of Kung Fu Accounting certainly feels this way, as his accountancy firm not only helps to make sound financial decisions for his clients, but has started running modular courses around becoming an ethical business and courses for accountants to up their ethics too.
Jen Bayford Bayford and I sat down with him recently to understand what are the main areas that businesses can bring ethics into their finances:
1) Banking – Choose a bank that isn't trashing our planet. Check out your bank at Bank Green and see what impact your money is having on climate breakdown. For a profanity filled ditty around this, check out Scott's poem 'Bank is a four letter word'.
2) Pensions – Like banks, many pension funds are heavily invested in fossil fuels. To find a greener pension for your business, visit Make My Money Matter. And if you offer your employees a NEST workplace pension, here's how to make that more ethical.
3) Staff – Often one of the largest costs to a business, but happy staff equals happy customers and one of the important steps towards this is to ensure they are all paid fairly, so consider signing up as a living wage employer, and explore terms and conditions they really want, like remote working or flexible hours – ping pong tables and fruit in a bowl isn't going to cut it any more.
4) Supplier payment terms – If you're able to commit to specific supplier payment terms, communicate them with your contractors and suppliers. Better still commit to immediate payment upon invoice. It helps everyone know where they stand and plan a bit better in these uncertain times. The Alliance of Independent Agencies this week have a live debate on the matter – 'late payments by large companies should be subject to legislation'.
5) Guilty by association? – Have you thought about what your clients and customers do to make money? Is it harming our only home planet? If so, have you considered formally boycotting particular industries or companies? Be inspired by Clean Creatives – Growth Animals are amongst hundreds of others to have taken the pledge.
6) Why does your company exist? – When a company is formed in the UK, it legally comes with a primary aim to maximise shareholder wealth. What isn't said, is that maximising shareholder wealth could come at the cost of the environment, or people. The Better Business Act and B-Corp seek to change this – could you support them or even consider becoming a B-Corp?
If you'd like to find out more about Kung Fu Accounting, visit www.kungfuaccounting.com or connect with Scott here on LinkedIn
If you'd like ethical marketing support for your business, visit www.growthanimals.com
For more Ethical Marketing Minute content, click here
If you've got a story and would like to feature on the Ethical Marketing Minute, contact Chris
Sign up to our newsletter for more great content like this