Becky Bettesworth: Artist and business owner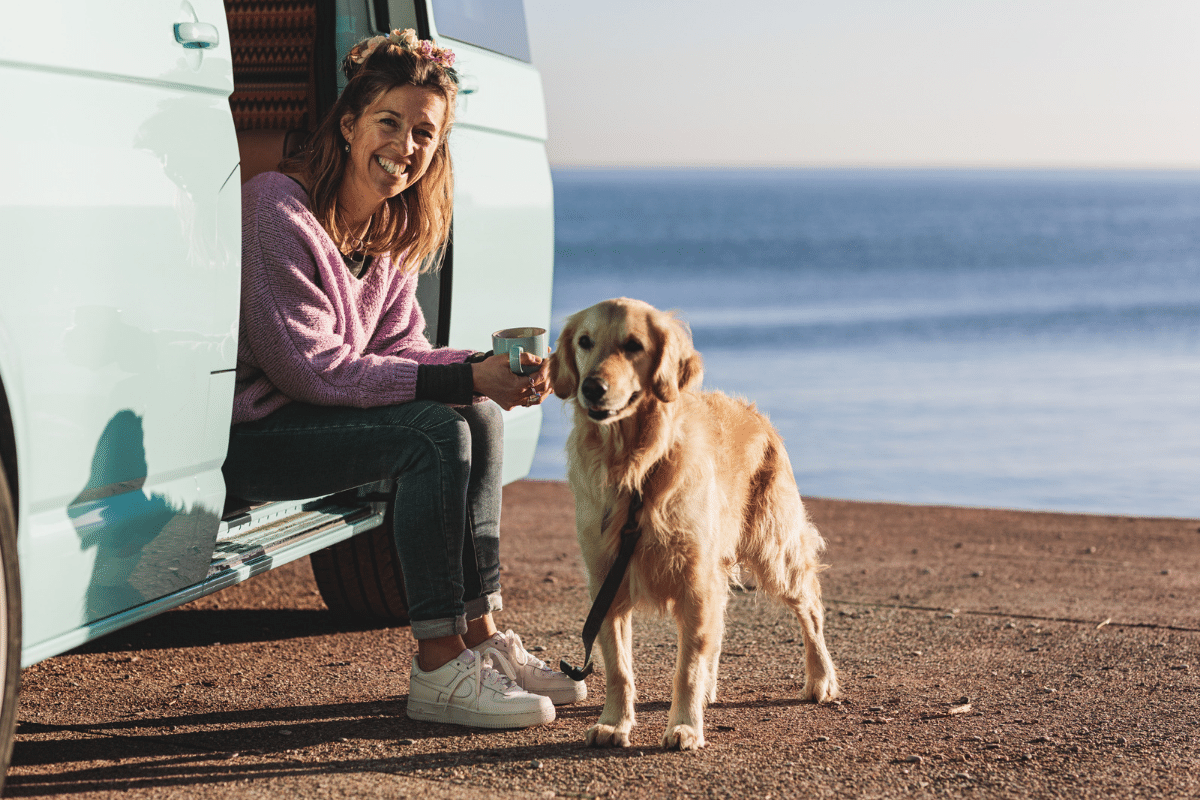 Like many Brits, I love summer staycations in Devon and Cornwall. Aside from eating ice-creams and pasties, a big part of a West Country holiday is mooching around the quaint, seaside shops, looking for something to take home. This is exactly how I was first introduced to the work of Becky Bettesworth, a Torquay-based artist who specialises in creating beautiful vintage seaside travel prints and quote posters.
Becky's business has been fuelled by her creative passion, which shined brightly when we met (virtually) to discuss her success. Becky comes across as both determined and laid-back in equal measures; excited and driven by the largely organic growth of her business and her resolve to not let her dyslexia hold her back, whilst also just as happy to prioritise looking after her family and enjoying life as it comes. I was keen to hear about how Becky's journey to find her creative outlet has brought her business success and how her personal struggles with dyslexia and being a 'yes person' have become her superpowers. 
Laying down artistic roots
Before her business took off, Becky had spent years trying to find a satisfying outlet for the creative fulfilment that she craves and started out creating one-off commissioned acrylic paintings. After upping sticks from London in 1999, she spent a year travelling around New Zealand and Becky enjoyed the refreshing outlook that her time away provided: "somehow all the boundaries are broken down, when you're travelling." She found inspiration in the many artists that she met and looking at their beautiful creations she thought, 'I could do that.' With the fire lit, Becky returned to the UK, putting down roots in South Devon.
Becky's artistic style has evolved naturally over the years, but has always remained simplistic and colourful. "About nine years ago I was doing a completely different style of pictures…quirky, a bit Beryl Cook-esque. I always loved colour and happy notion…something that makes you smile and feel good." All Becky needed next was a platform, so that she could share her happy, colourful art with the world.
After approaching The Cary Arms a local boutique pub-come-hotel, Becky was given her own outdoor gallery space on the terrace to exhibit in. It overlooked the sea and inspired by the wonderful view, Becky decided to create a travel poster, in the old vintage style. Whilst she was there, she also created a poster of Torquay. Although Becky describes herself as 'useless at technology,' she taught herself how to create the flat, graphic shapes which make up the vintage travel poster style, using Photoshop, wanting to replicate the same style as the original posters which were silk screened.
Next, Becky went on to exhibit at Greenway, which is famous for being Agatha Christie's holiday home and for being, what Becky describes as, 'the most enchanting, beautiful place.' "It lends itself so well to that era of the travel posters because it's nostalgic and romantic, it's just so beautiful." Of course, whilst there, Becky gave Greenway the travel poster treatment and the National Trust site loved her work so much, they asked if they could sell Becky's art in the Greenway shop.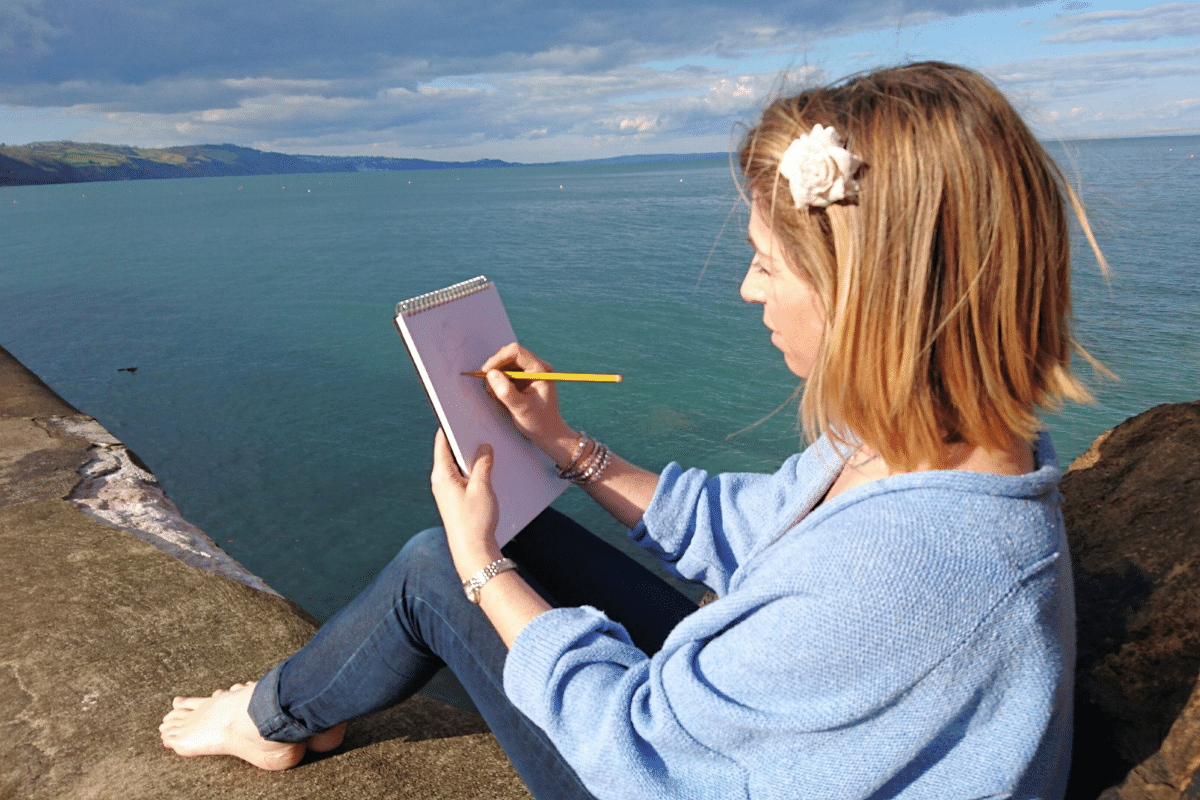 Determination or luck?
Becky describes herself as a 'bit of a yes person.' "I'm a little bit of an excited puppy and later will think: 'hmm, how am I going to do that?'" With her tail wagging, Becky of course accepted the offer to sell her art in the Greenway shop, but was without a way to print her work. She enlisted the help of a friend, who worked at a printing company and her new venture snowballed from there. Other eager retailers came knocking and before long, Becky's business was flying.
Becky talks a lot about 'luck' when it comes to her business and I can't help but wonder whether this modesty is undervaluing the success that she has undoubtedly created for herself. What Becky describes as her 'yes' mentality is also what has opened so many fantastic doors for her and her business. At the start of her journey, Becky said 'yes' to having a stall at a trade show alongside big established companies, which at the time felt massively outside of her comfort zone. The result of this scary step, Becky explains, was that it leveraged her business in an unexpected way. People visiting the tradeshow perceived Becky as on an equal level with the bigger companies surrounding her, simply because she was in their presence. At this point Becky realised that the big dogs weren't unlike her, really. 'You always think everyone else knows what they're going, but we're learning all along.' I think Becky's 'yes' mentality is actually her superpower.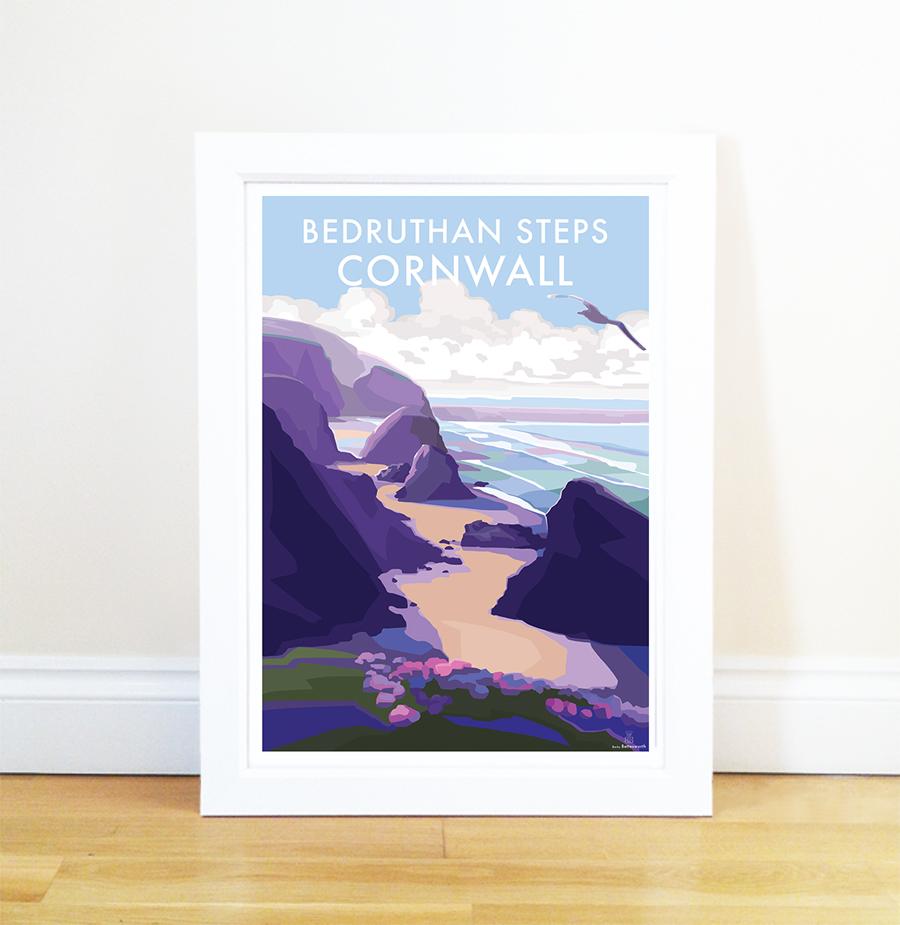 Turning a struggle into an advantage
In a way, Becky's experience with dyslexia is what has led her to the business success that she's experiencing now. "I've got a chip on my shoulder," Becky jokes when asked about her dyslexia. Becky explains that her struggle with academic subjects in school made her even more important to her.   "I really struggled at school… I remember feeling so embarrassed, so self-conscious, as if I was really stupid, but I loved art and knew I was good at it and that was recognised by my teachers and peers." The combination of Becky's talent for art and her struggle with dyslexia set off 'a hunger to prove something.' This hunger serves Becky by feeding the passion that she puts into her artwork and is why each piece is so lovingly created.
Without realising, Becky has also managed to tap into people's emotions and feelings. When holiday makers visit Devon and Cornwall with their loved ones, they purchase Becky's prints as a reminder of the good times. When they're back home again, working the nine-to-five and eating dinner around the kitchen table, they look up at the vintage holiday poster they purchased on their last trip to Devon and get that warm, fuzzy holiday feeling inside. It's sentimental. Becky, however, insists that this was never her business plan and that it was more of a happy accident. "I never set out with that as a plan, it was more me going 'I'd love to do that, that would look really great.'"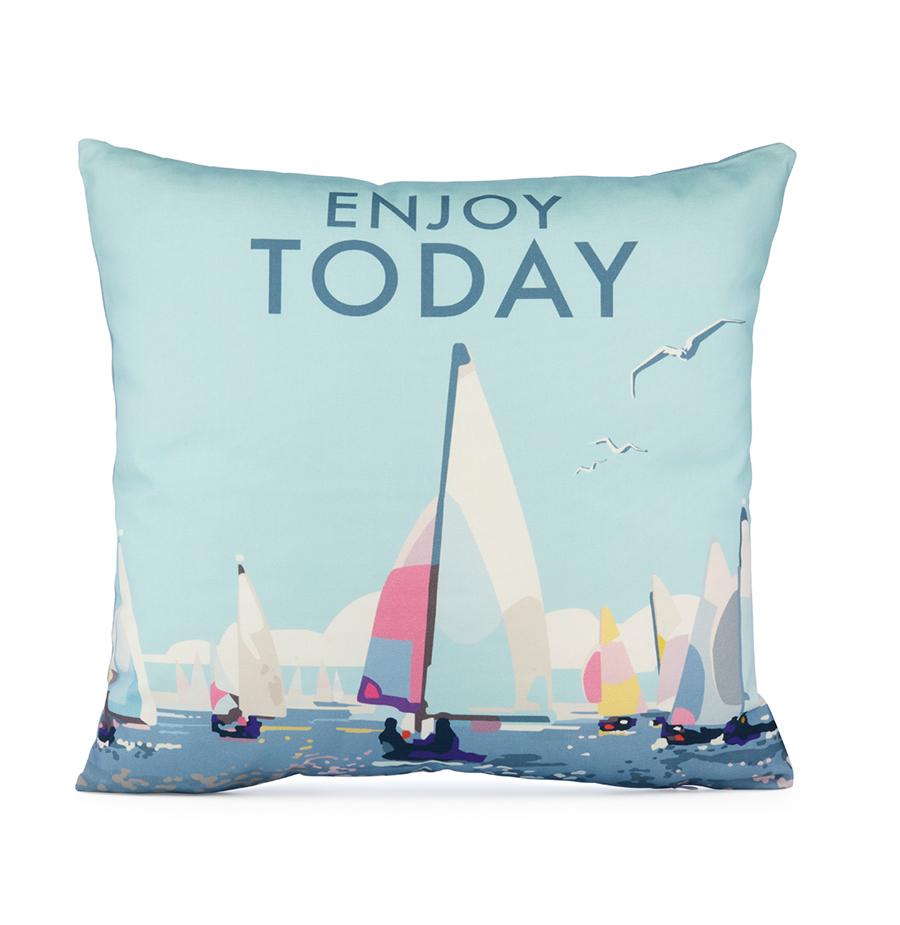 A grounded approach to marketing
When the shops shut their doors during the Covid-19 pandemic, Becky was quick to market  her already established online business. Keen to offer some creative outlet to her customers, she created free downloadable drawings, which could be printed out and coloured in by adults and children alike. Then business got really busy and, to this day, Becky reports that 'online sales have been incredible.' 
Social media, something which Becky has a love-hate relationship with, has also been a brilliant digital asset for her business and has helped propel her brand into a space that otherwise may not have been accessible. "I hate it in one respect, especially being a mum…and the danger of it, but for my business and showing people what I do, it's great. Before, you might have had to be in London or in different companies in order to make things work, now (the exposure) is accessible to anyone, so that's a real plus and really exciting."
However, when it comes to marketing, Becky's approach is mostly hands-on.   Becky has a good online presence which is facilitated by a marketing budget for Google Ads and there is a good balance of online purchases as well as wandering tourists stumbling upon her work on holiday. The result is a really warm, honest bond between the brand and its customers, which is surely much more powerful than spending lots of money on adverts. This organic approach to growth suits Becky and her no-rush attitude to business perfectly. "I feel like my feet are firmly on the ground. I'm a mum and I've got to make sure that the kids are alright…I'm a 'yes' in that I want the business to grow, but I want to be realistic as well…it's really brilliant that I can do what I do and this is great, let's not try to be anything that's too mighty or big, because I keep grounded, really."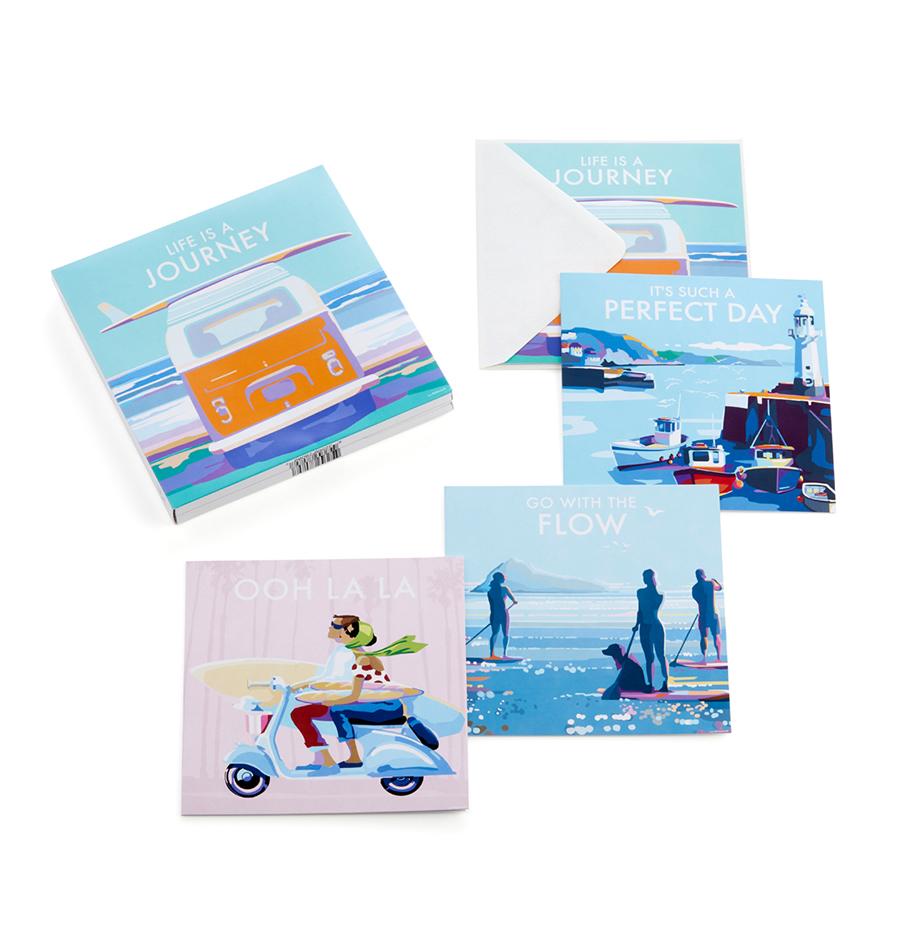 Business Vs Creativity
Speaking to Becky, it's clear that creativity will always take priority over business. "It's not all about the money, it's about fulfilling my creative need." Becky actually doesn't seem phased by a lot of the pressures of business and explains that it's time that actually stifles her creativity. She combats this by working at night, when she can be alone and undisturbed. "Working at night – it's as if time doesn't exist, you're in this wonderful, almost like a meditative state, because you've got this connection and you just flow and that's harder and harder to get, that idyllic condition." 
Becky has a team of people who help and support the business with administration and accounts.  She recognises that it is important to acknowledge that you don't have to have all the skills that are required to run your business and that a team effort is essential to make everything flow well.  "You can't do everything yourself otherwise it becomes overwhelming".
Although Becky has a largely modest approach to her business, she does has have one brilliant, royal ambition on her list of goals and would like the Queen to own one of her pictures. Aside from this, Becky is very happy for the next chapter to evolve naturally. "I'll carry on doing what I enjoy doing in the hope that other people like it too. If that means switching to a different style, that's okay because I'll go with what feels right at the time."
When I ask Becky if she has any advice for creatives like her, who are perhaps not naturally business-minded, she's full of wise words. "I'd really recommend to anyone, if you can, to really try and fulfil that burning ambition or goal because you don't want to look back on it and think 'what if.' Don't give up, trust your instinct, don't listen to your ego…you can set up a business easily, without having to set up your own website, using the likes of Not on the High Street or Etsy or Ebay.' Fayres are also a great way of getting people to see whatever you create. Take a Leap of faith." Becky is an excellent example of the great things you can make happen, when you push yourself outside of your comfort zone. We can't wait to find out where her creativity, combined with her 'yes' mentality takes her next.    
Sign up for our monthly Growth Tips for more great content like this